Keynote — M. T. Anderson
M. T. Anderson has written stories for adults, picture books for children, adventure novels for young readers, and several books for older readers (both teens and adults). His satirical book Feed was a Finalist for the National Book Award and was the winner of the L.A. Times Book Prize. The first volume of his Octavian Nothing saga won the National Book Award and the Boston Globe/Horn Book Prize. Both the first and second volumes of that two-part series were Printz Honor Books. He has published stories for adults in literary journals like The Northwest Review, The Colorado Review, and Conjunctions. His new novel, Yvain, will be released in spring 2017.
Website: http://mt-anderson.com/
Twitter: @_MTAnderson
Brunonia Barry
 
Brunonia Barry is the New York Times and international best selling author of The Lace Reader and The Map of True Places. Her work has been translated into more than thirty languages. She was the first American author to win the International Women's Fiction Festival's Baccante Award and was a past recipient of Ragdale Artists' Colony's Strnad Fellowship as well as the winner of New England Book Festival's award for Best Fiction and Amazon's Best of the Month. Her reviews and articles on writing have appeared in The London Times and The Washington Post. Brunonia co-chairs the Salem Athenaeum's Writers' Committee. She lives in Salem with her husband Gary Ward and their dog, Angel.
Website: http://www.brunoniabarry.com/
Twitter: @BrunoniaBarry
Deborah Cramer lives with her family at the edge of a salt marsh in Gloucester, MA where each year she eagerly awaits the return of migrating shorebirds and horseshoe crabs coming into the creeks at the highest of spring's high tides, in the new and full moons, to lay their eggs.  Cramer has written two natural histories of the sea, Great Waters: An Atlantic Passage (W.W. Norton) and Smithsonian Ocean: Our Water Our World, the companion to the Ocean Hall at the U.S. National Museum of Natural History.  In her most recent book, The Narrow Edge: A Tiny Bird, An Ancient Crab, and an Epic Journey, she accompanies small sandpipers on their long migration from Tierra del Fuego up into the Arctic.  The Narrow Edge is the recipient of the Rachel Carson Book Award, from the Society of Environmental Journalists; the Best Book Award from the National Academy of Sciences; the Southern Environmental Law Center's Reed award honoring the "power of writing to change hearts and minds.,"  The Massachusetts Book Awards chose The Narrow Edge as a "Must Read." She is a Visiting Scholar at MIT's Environmental Solutions Initiative.  Perhaps you've seen Deborah's Op-Eds in the New York Times, or heard her on Radio Boston.
Website: www.deborahcramer.com
Facebook: https://www.facebook.com/deborahcramerauthor/
Laura Harrington, award winning playwright, lyricist and librettist, winner of the 2008 Kleban Award for "most promising librettist in American Musical Theatre," has written dozens of plays, musicals, operas and radio plays which have been produced in 28 states, Canada and Europe, in venues ranging from Off-Broadway to Houston Grand Opera to the Paris Cinemateque. Harrington has twice won both the Massachusetts Cultural Council Award in playwriting and the Clauder Competition for best new play in New England.  Additional awards include a Boston IRNE Award for Best New Play, a Bunting Institute Fellowship at Harvard/ Radcliffe, a Whiting Foundation Grant-in-Aid, the Joseph Kesselring Award for Drama, a New England Emmy, and a Quebec Cinemateque Award. Laura teaches playwriting at MIT where she was awarded the 2009 Levitan Prize for Excellence in Teaching.  She has also been a frequent guest artist at Tufts, Harvard, Wellesley, Skidmore, and the University of Iowa.  She was the 2014 Jack Kerouac Writer in Residence at UMASS Lowell.
A Catalog of Birds, her second novel, will launch in July 2017, published by Europa. Alice Bliss, (Penguin/ Viking) her first novel, widely acclaimed in print and online and a Boston Globe bestseller, won the 2012 Massachusetts Book Award in Fiction. Alice Bliss was published in Italy, Denmark and the UK, where it was a Richard and Judy Book Club Pick. In addition, Playwrights Horizons in NYC has commissioned Alice Bliss, the musical with composer Jenny Giering, librettist Karen Hartman and lyricist Adam Gwon. A workshop of the musical will take place in 2018 in NYC, with Mark Brokaw directing.
Website: http://www.lauraharringtonbooks.com/
Twitter: @LaurHarrington
Katherine Howe
 
Katherine Howe  is the New York Times bestselling and award-winning author of four novels and a nonfiction book. Her best known works are The Physick Book of Deliverance Dane, which debuted at #2 on the New York Times bestseller list in 2009, and Conversion, which received the 2015 Massachusetts Book Award in young adult literature. Her newest novel, a New York City-based literary thriller called The Appearance of Annie van Sinderen, was released in paperback in 2016. She has appeared on "Good Morning America," "CBS This Morning," NPR's "Weekend Edition," BBC Radio 5, and the History Channel, and she hosted "Salem: Unmasking the Devil" for National Geographic. Her fiction has been translated into over twenty languages. In 2015 she was the visiting writer in residence at Lenoir-Rhyne University in North Carolina, and she spent 2016 as a visiting scholar at the Center for Advanced Study in the Behavioral Sciences at Stanford. While at CASBS she completed a novel set among the pirates of the Gulf coast. She holds a BA in art history and philosophy from Columbia and an MA in American and New England studies from Boston University. A native Houstonian, she lives in New England and New York City.
Website: http://www.katherinehowe.com/
Twitter: @katherinebhowe
Kathleen Kent
Kathleen Kent is the author of two best-selling novels, THE HERETIC'S DAUGHTER, for which she received the David J. Langum Sr. award for American Historical Fiction, and THE TRAITOR'S WIFE (published in hardcover as THE WOLVES OF ANDOVER). Her most recent historical fiction novel, THE OUTCASTS, was awarded the American Library Association's "Top Pick" Historical Fiction in 2014 as well as being the recipient of a Will Rogers Medallion award for Western fiction. She has completed her fourth novel, THE DIME, based on a short story published in the crime anthology Dallas Noir.  Her novels are collectively published in 16 countries.
Website: http://www.kathleenkent.com/
Twitter: @kathleenkent214
Crystal King is an author, culinary enthusiast and marketing expert. Her writing is fueled by a love of history and a passion for the food, language and culture of Italy. She has taught classes in writing, creativity and social media at Harvard Extension School, Boston University, Mass College of Art, UMass Boston and GrubStreet, one of the leading creative writing centers in the US. A Pushcart-nominated poet and former co-editor of the online literary arts journal Plum Ruby Review, Crystal received her M.A. in Critical and Creative Thinking from UMass Boston, where she developed a series of exercises and writing prompts to help fiction writers in medias res. She considers Italy her next great love, after her husband, Joe, and their two cats, Nero and Merlin.
Website:
Twitter:
Louise Miller
Louise Miller is a pastry chef who lives and works in Boston, MA. She received a scholarship to attend GrubStreet's Novel Incubator program, a yearlong workshop for novelists. She is an art school dropout, an amateur flower gardener, an old-time banjo player, an obsessive moviegoer, and a champion of old dogs. The City Baker's Guide to Country Living is her debut novel.
Laurie Stolarz
Laurie Stolarz is the author of several popular young adult novels including the Dark House series, the Touch series, Project 17, Shutter, and Bleed, (all published by Disney/Hyperion Books for Children), as well as the bestselling Blue is for Nightmares series (Flux Publications). With over a million books sold worldwide, Stolarz's titles have been translated into over twenty languages, been named on numerous award lists, including the Quick Pick for Reluctant Readers list and the Top Ten Teen Pick list, both through the American Library Association, and have been optioned for TV. For more information, please visit her Web site at www.lauriestolarz.com.
Website: http://www.lauriestolarz.com/
Twitter: @lauriestolarz
Peter Swanson
Peter Swanson is the author of three novels: The Girl With a Clock For a Heart, an LA Times Book Award finalist; The Kind Worth Killing, winner of the New England Society Book Award, and finalist for the CWA Ian Fleming Steel Dagger; and his most recent, Her Every Fear. His books have been translated into 30 languages, and his stories, poetry, and features have appeared in Asimov's Science Fiction, The Atlantic Monthly, Measure, The Guardian, The Strand Magazine, and Yankee Magazine.
A graduate of Trinity College, the University of Massachusetts at Amherst, and Emerson College, he lives in Somerville, Massachusetts with his wife and cat.
Website: http://www.peter-swanson.com/
Twitter: @PeterSwanson3
---
Young Adult Writing Workshop:
M.P. Carver and Matthew Phillion
M.P. Carver is a poet from Salem, MA.  She is an editor at YesNo Press, former poetry editor of Soundings East, and runs the Small Press Fair at the annual Mass Poetry Festival.  Her chapbook, Selachimorpha, was published in 2015 by Incessant Pipe Print Works.
Matthew Phillion is the author of the Indestructibles, an ongoing series of Young Adult superhero adventure novels. A former journalist, Phillion has also worked as a writer and editor in the healthcare world as well as a marketing writer in IT security. Before the Indestructibles, he wrote and directed the romantic comedy Certainly Never, nominated by the Massachusetts Independent Film Festival for five awards, including best screenplay and best New England film. He is also involved as a playwright in the upcoming project "Stories of Substance" with the Salem Athenaeum.
Website: http://www.theindestructiblesbook.com/
Twitter: @mattphillion
Moderator: Karen Scalia
Karen Scalia is the founder and owner of Salem Food Tours and the Salem Spirit Trolley. Her five-star rated Tours have been featured on Chronicle, NY1, Fox CT, as well as in the Boston Globe, Northshore Magazine, Vegetarian Times, and more.  Karen hosts culinary events, such as emceeing the Giada De Laurentiis cookbook tour appearance at Northshore Music Theater.  Her background includes corporate event planning. She is an active actor and voiceover artist, and currently sits on the New England Board of SAG-AFTRA as well as Destination Salem.
Website: http://www.salemfoodtours.com/
Facebook: https://www.facebook.com/SalemFoodTours/
Twitter: @SalemFoodTours
Moderator: Diane Stern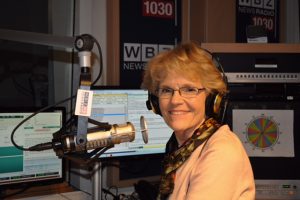 Diane Stern spent four decades anchoring and reporting the news in Boston. Before retiring from broadcasting in November 2016, she had spent most of her career at the CBS all news station, WBZ, where she anchored pm drive for many years. She is currently "The Voice of Health Information" for Tufts Medical Center in Boston. Diane's Massachusetts ancestors include Susannah Martin and Samuel Wardwell, both victims of the Salem witch hysteria.
Twitter: @DianeWBZ